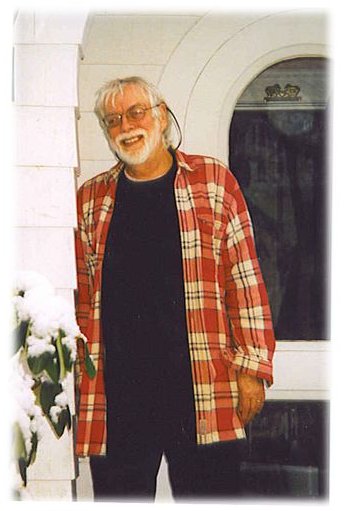 Ever since he was a boy Stephen has been fascinated by art, giving himself an informal art education by wandering through museums in his native Providence, Boston, and New York. His influences include DADA Photo Montage, Man Ray, Kurt Schwitters, the collage boxes of Joseph Cornell and Betye Saar and Robert Rauschenberg's inventive assemblage.
In 1989 Halpert and his wife Tasha settled in Grafton, MA. He began creating collages first on handmade buttons, but soon began to assemble paper pictures using a variety of imagery. His first major work, The Baseball Wall of Fame fused his hand-made pictorial buttons of all star players with detailed collage reflecting the colorful nostalgic history of the game upon a blue denim background.
He went on to create collages that juxtapose real-surreal imagery called "eye games," abstract urban landscapes, and currently, impressionistic layered canvases that capture a mystical timeless of nature.

He has won awards at the Blackstone Valley Artist Association's Spring and Fall shows and at the Grafton Fine Arts & Music Festival. In 2009 he was juried into the Arts Worcester Biennial Exhibit and in 2010 into Goddard Houses' In And Out of the Box.

A professional writer and editor since graduating Emerson College in 1964, he discovered that collage work helped him to relax and avoid writers' block. He has published a number of books, articles and columns on American literary, photographic and social history; and rock music and pop culture. Today he writes a weekly humor column, American Scene published on line and in The Grafton News .

In his popular collage workshops and private classes he encourages artists of all ages to develop and express their own unique vision. He urges them to trust sufficiently in themselves to experiment and dare to be visually different. Several of his students have won awards at art exhibits throughout Central Massachusetts. For more information about Workshops, Classes, Lectures, and Talks (click here).

For more information about Stephen please visit the other of the pages of this website. Contact him directly by going to our Contact Page (here).