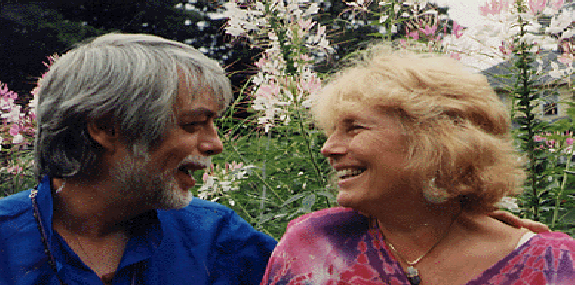 April 12,2003

Dear Tasha,
Today marks the 50th Heartwings Love Notes column. There are no words that can adequately express the gratitude I have toward Tasha Halpert for the love and devotion she has given to writing these columns for Whoohoo, and to do so without payment. There are very few people in this world that I would trust to provide insight or guidance about problems in my life, but Tasha is one of those few, because I know she always comes from a place of peace, love and gratitude. Thank you Tasha, today I Celebrate you and all the Peace and Beauty you bring to this world! Eli


---
May 27, 2002
Hi Tasha,

"Thank you for today, it's amazing how someone's " yours" words can relieve such anxiety and fear! I got off the phone with such high spirits, went outside and gave my husband a kiss and just walked away with a smile!!!!!! knowing things are going to be o.k.

Thanks again, and please do add me to your list for messages!! :)"

Love,
Maria

---
September 17, 2001

"The first time I met Stephen was at a party. I was new in town, and he knew nothing about me (so I thought). He introduced himself to me by telling me personal details about myself that no one could ever guess or articulate from my behavior. These were things about myself that would take a lover years to discover. I was completely amazed. Since that time I have spent many days at the Grafton Center for Inner Peace. Both Stephen and Tasha have helped me heal from grief, learn to love myself, and to tune into my own psychic abilities. They are both wonderful and gifted people. I love them so much, I maintain this website for them. :)"


Sincerely, Kristin Fosmoen
---
June 5, 2000
"So much of the strength I now possess comes directly from the work I have done with you and Stephen. I am forever grateful." L. Foley
---
May 5, 2000
"I am eternally grateful for your kind wisdom and guidance. I have learned so much from you and Stephen. You have a way of saying things in short and meaningful words that I can easily carry in my head to remind me."

J. Rose
---
December 12, 1999
"Thank you both for the reading on the Grafton channel on 12-08-99. You were both helpful for a direction I needed at this time of fear and uncertainty. I have seen you on this channel often and really enjoyed your appearances. I wish you both many years of health and a continuation of your contribution to the well being of others."

B. Smith
---
August 15, 1999
"The reading you gave me was just wonderful. The reading set my mind at rest and gave me much peace. I was able to see clearly into something that had disturbed me and let go of the pain."

S. E. Johnson
---
May 12, 1998,
"Seven years ago I came to you as a lost and troubled soul. At that time I was a scared and weak person with no concept of self. When we met you immediately and without question enveloped me with your glorious golden wings of light. You helped me to see the world as a bright place full of adventure, rather than a place to be feared. Also you let me see myself as a positive force in this world. So many changes have come since you introduced me to myself. Even though some have been unpleasant, they were also quite necessary. The ability to see and know that was a gift you opened my eyes to."

E. Woolard
---
August 14, 1995
"On behalf of the Evangelical Congregational Youth Group I would like to thank you both for your warm hospitality and interesting discussion on Meditation. We all greatly enjoyed the evening: A direct Quote, "It was really cool!" and found the meditation exercises peaceful and relaxing after a hectic weekend. Thank you for telling us about the center for peace, for the walk in your lovely garden and for your time. It was very much appreciated by all."

Sincerely, C. Crosby
---
January 29, 1994
"On behalf of ARIUS I would like to thank you for participating in our 1993 National Sales Meeting, particularly our Futuristic Awards Diner. Our employees were extremely impressed with your psychic abilities. The word is that you were both right on about many aspects of their present lives and the hopes for their future. Thank you for making an important evening very special. It is an event that will long be remembered. Please feel free to use our Company as a reference. We will definitely keep you in mind."
Sincerely, Robin E. Menard, NSC Services/Project Manager


Back Page - What We Do , Testimonials , Tips for Inner Peace , Site Home Page